In the summer and fall of 2018, PBS did a wonderful thing. They hosted "The Great American Read" which was more than just a series about reading books. Meredith Vieira showcased many great authors, both living and otherwise, then invited viewers to vote for their favorites.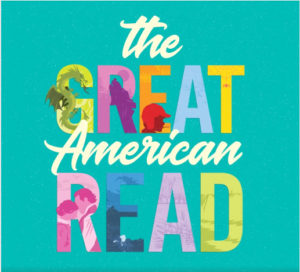 The presentation was novel (I'm sorry) because some famous writers of today extolled the virtues of authors who inspired them. George R.R. Martin lavished praise on J.R.R. Tolkien, for example. It didn't take any convincing on his part for me to take up the standard for the world's most famous Inkling. Two of the Inklings ranked in the top 10 when the final results were announced in November.
The Lord of the Rings trilogy came in at number five and the Chronicles of Narnia series placed ninth. Game of Thrones made it into the top 50 at number 48. Harry Potter rolled in at number three. That was a nice surprise I think, It represented the effect J.K. Rowling has had inspiring readers of all ages to pick up a book in the face of the horde of instant distractions electronica to steal our imagination and box it.
Two aspects of the contest to pleased me greatly. The first being the fact I'd read more than a third of the top 100 contenders. The second being that almost all of my favorites placed.
Of course I've mentioned a few of them, but in contemplating others, the phenomenon of literature's affect on real life, my life in particular, and the effect of the writings of the writers surfacing as a result of the Great American Read came into view. In upcoming journal entries, I'll begin a targeted countdown of these greats and how they've affected me in a series called Authorian Legends. These posts will also be included in my new newsletter, News from the Now. Subscribers will be notified when each new entry is posted. All you need to do to subscribe is click the box appearing at the top right of any page of this website.
One of the authors who had the profoundest affect on my writing is Kurt Vonnegut. He will be my first featured Authorian Legend in my next journal entry. See you then!